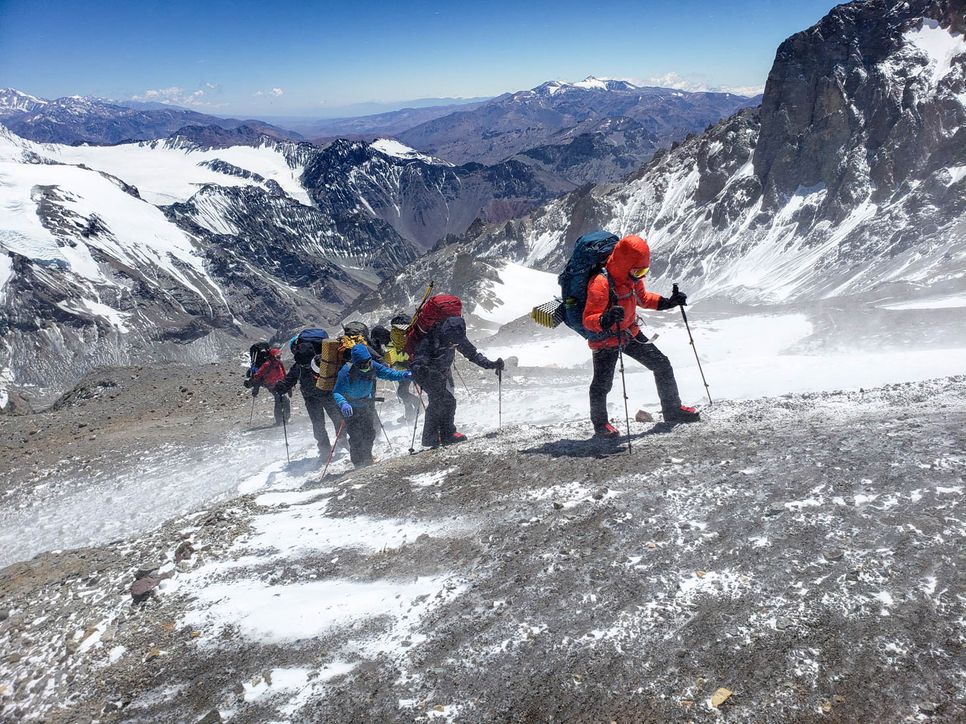 Climbing up the steep slopes between camp 2 and 3
A dream to live or forget
Why would I, a woman and mother of two young kids travel all the way to South America for three weeks to climb Aconcagua? I had asked myself this question many times and until I was way up the mountain I had no clear answer. It had been my dream to climb big mountains but I had abandoned that dream long time ago. I thought I was not strong enough, not tough enough, not made for such big adventures. Also, I used to climb with my husband, but since he was prone to altitude sickness (although he successfully climbed Mt Blanc in August 2018), I did not want to exclude him from our common dream and climb high mountains alone instead. Moreover, now I was a mommy I had to be there for my family. So mountaineering adventures were something of the past. Or at least, that's pretty much what I had come to believe.
The tiny seed 
Then we got the idea to travel to Patagonia as a family and I immediately thought: if we travel that far, why not climb a mountain in the Andes right before or after our trip? As we thought it through, we realised that travelling to Patagonia with our kids would be a no go. Why travel all the way to South America with them when we had mountains and wonderful nature in Switzerland?
We forgot about our plans but the seed of climbing in South America and especially Aconcagua was planted and it would not leave my thoughts. Aconcagua is a high mountain (6962m), the highest on earth outside the Himalayas, beautifully towering above the Andes, considered a sacred mountain by the indigenous people and technically not difficult.
This was a mountain I could climb.   
The mountain is calling 
It then took me four months (!) to make up my mind. The idea of leaving my kids for three weeks seemed a nightmare to me, as I thought I was indispensable, but this feeling merely was a projection of my own fear of being away. Only when my husband asked me why I still had not booked my flight and a few friends told me that it was a great idea to climb Aconcagua, I decided to go. An adventure was waiting for me and I got more excited by the day. 
Falling in love with mountains
Perhaps I should have been born in the mountains instead of on Dutch flatland. Already at the age of 1, my parents took me on a vacation to the Austrian Alps. Since then I spent most of my childhood vacations hiking in the Swiss Alps. When I was 20, I did my first alpine course and since then, I spent nearly every summer vacation in the mountains.
In 2008, I climbed Mount Kenya (Point Lenana). In 2010, I went on a short climbing expedition in Bolivia, and in 2011, I stood on Kilimanjaro. 2012 was the year I hiked for 45 days through the Himalaya in Nepal. In the same year, I climbed 16 x 4000-ers above Zermatt.
Training for Aconcagua 
My training started with the Aletsch half marathon in June 2018, a challenge in the spectacular scenery of the Aletsch Gletscher. As of September 2018, I intensified my physical training and committed myself to weekly hours of trailrunning, hiking, bootcamp, winterswimming and mountainbiking.
I set monthly goals for running and sticked to them. I also hiked a lot, sometimes with a heavy backpack, and I camped alone on a mountain. Three months prior to the expedition, I started winterswimming in the Vierwaldstättersee (Lake of the Four Forest Cantons) in Central Switzerland as a mental preparation.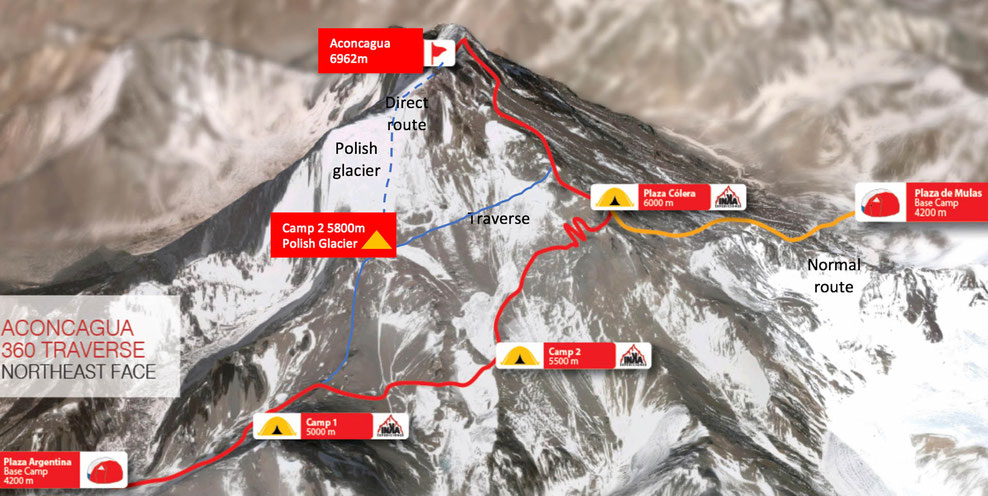 Map of Aconcagua. From Plaza Argentina base camp, there are two different, main hiking routes up to the summit: the blue route that follows the Traverse with camp 2 at the bottom of the Polish Glacier at 5800m, and the red route with camp 2 at 5500m. Both routes join each other on the normal route above Plaza Colera at 6000m (camp 3). 
Some of the photos and videos in this blog have been made by mountain guide Eduardo Mamani (www.bolivianmountainguides.com).