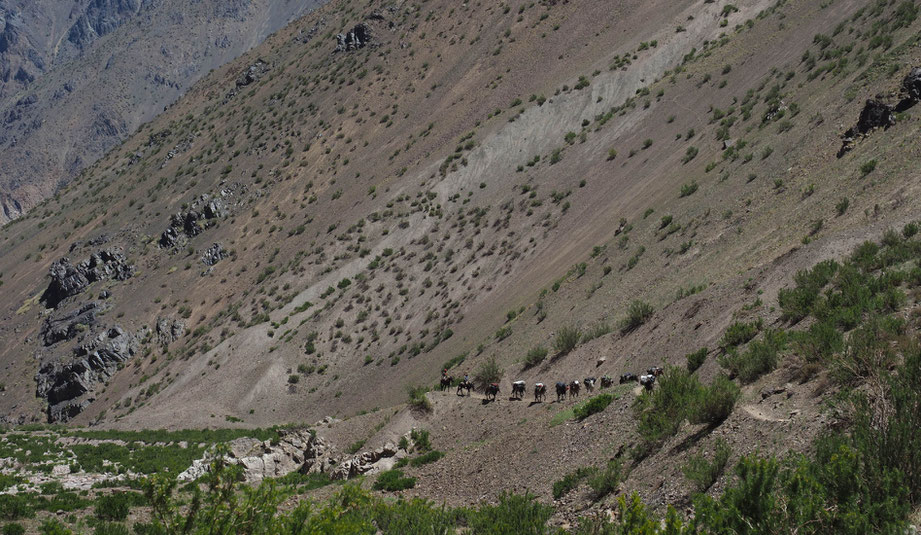 29 December 2018 - hike to Pampa de Leñas (2850m)
The search for a mule
When I woke up, Eduardo's tent was empty. I started preparing breakfast and boiled water for tea, soup and eggs for the trekking. When I looked up to the village of Punta de Vacas, I saw Eduardo walking back to our camp. He had been looking for mules but had not found anyone who could help. After breakfast we quickly packed our stuff, left it there, and followed the overgrown traintracks to the village. An old man who had lived in Punta de Vacas, which is just a tiny village, for his entire life, brought us to the place where the mules were kept. There were many of them, but soon it became clear that they could not carry our luggage, and according to the old man, this was the only place in the area where we could find mules. Discussing our options with him (I tried to participate in the conversation with my Spanish-for-beginners), we decided to head to the entrance of the Aconcagua NP, and ask the park ranger for help. The park ranger thought the best we could do was to arrange a mule in Penitentes or Puente del Inca with one of the bigger expedition companies, as apparently every Aconcagua climber with expedition support does these days.
Synchronicity 
Practically far from ideal, but going to Penitentes, about 10 kilometers away, seemed the only option left. Until a white van arrived and offloaded a group of climbers. A European looking woman called Sybille accompanied them. She was busy with her phone so I thought she was the right person to explain our situation and ask for help. She turned out to be from Germany and run a small expedition company, Mallku Expediciones, with her Argentine husband Viktor. She immediately called Viktor to ask if they could take our luggage to basecamp and in the meantime she send us away to get our luggage as her mules would arrive in half an hour. Excited by this positive outcome, we ran back to our campsite while I tried to figure out how to get seven bags, in total 60 kg, to the trailhead. I remembered the red car in front of the building next to our campsite and rang the doorbell. The man we had spoken to the day before (to ask if we were allowed to camp next to his building) was so kind to help us and we loaded his car with our luggage and a few minutes later we were back at the trailhead. In the meantime, Sybille had arranged a mule for us. Pure synchronicity! At the ranger station we got a stamp on our climbing permit and a numbered garbage bag to be returned full at the end of the trip. 
Rocks & sand
Now we were finally on our way, hiking the first part through colorful flower fields, past high, green trees, while I heard the river roaring far beneath me. I felt the warm breeze of the wind around me, like a soft protection around my body. Then, for a long time, we followed the tracks over white rocks next to the river. We saw a big lizard, warming his skin on a boulder and a herd of cows as the trail wound uphill. The valley was green and enjoyable to hike through. I got back vivid memories of hiking through Upper Mustang in Nepal seven years ago, with its steep walls and eroded mountains, and as dry, windy and sandy as it was here.
Pure water
We drank water from a mountain stream (I found the taste of pure water much better than the chlorine-purified water) and watched a train of mules passing us. They seemed to be heavy loaded. But the mules were much quicker than we were and they almost ran the whole way to our next camp. The trail was marked, though not maintained. For most of the time, we walked over rocks and sand, following a line that had become something like a trail over the years people had gone here. The higher we got, the stronger became the wind. We hiked over endless plains with small trees with beautiful orange flowers.
Hello wind 
During a break on the riverbank we met Jessica and her father David and their guide Julio from Argentina. They were here one year ago to climb Aconcagua and said that this time, there was much more wind. I hoped the wind would calm down, but realised that this was out of my hands. Except for Jessica and her team, we did not see any other people until we reached Pampa de Leñas, 4-5 hours after we had left the trailhead. Although the sun had set behind the mountains and the camp was in the shade, there was still daylight until around 21:00. Our tentspots were surrounded by stone walls to protect the tents from the wind. I cooked a meal for both of us and enjoyed the first evening on the trail.