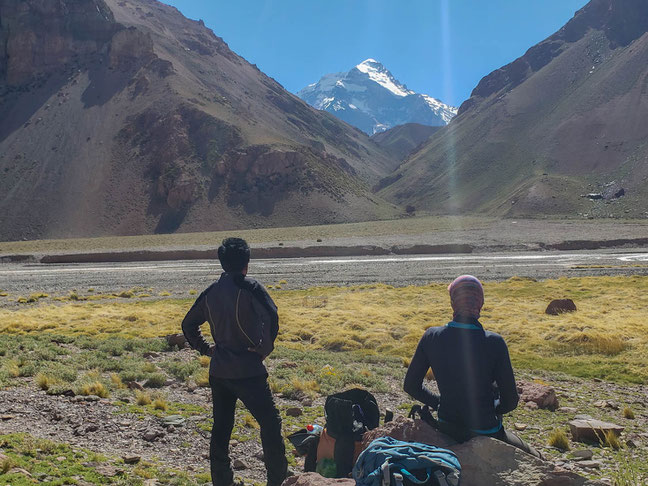 30 December 2018 - Hike from Pampa de Leñas (2850m) to Casa de Piedra (3250m)
Coming closer
Today was the first day we could see Aconcagua. The mountain seemed so close, yet was still so far away. It was the end of the day, after hours of strenuous hiking and thinking how long it would still be till we reached the next camp. I tried to become more organized, so that I did not have to look everywhere for a bit of sunscreen or crawl to the bottom of my backpack just to find my gloves. Knowing where to find my stuff would be crucial higher up the mountain. The wind had accompanied us all day, and I realised that he would probably not leave me in peace for the next two weeks.
The river
Today's hike started on the river bank where we ploughed through white sand, a track we followed until it went uphill after crossing a metal bridge. The green valley had changed to wide open plains with grass, rocks and sand, through which the Vacas river had found its way below the steep brown and red hills that showed their mighty presence.
We sat at the river, and Eduardo carefully dipped his legs in the cold water. Not wanting to miss out this opportunity, I zipped off my trousers and went in till my upper legs and felt the power of the water, wanting to take me down the river while I held on to a rock. How cool was that!
Some piece of advice
Throughout the entire day, I had felt a soft energy around me, making me feel relaxed and peaceful. It was the energy of the valley and the surrounding mountains. I asked Eduardo if he could feel it, and to my surprise he said he did, too. For someone who lives in the mountains and is always in touch with nature, this was nothing strange, but rather just as 'normal' as the sun rising every day. He said that the valleys around Aconcagua indeed hold powerful energy.
I asked him how he coped with physical and mental difficulties on his climbs and he answered: 'Ban the word 'tired' from your vocabulary and don't say that you can't do something.' I promised myself that I would follow his advice. 
We took time to take pictures and like yesterday, we were the last ones to arrive at camp, Casa de Piedra, which was not more than a small stone house surrounded by tents and a rangers hut. When Eduardo asked me how I was doing (one of his favourite phrases), I was about to say I felt tired. Just in time, I told him I was exhausted, upon which we both had to laugh.
Vegetable exhibition
We pitched our tents and started cooking. Eduardo got water and cut vegetables, while I tried to make something like a nutritious meal with rice and sauce on the small stove. The vegetable bag had become humid and I took out everything – broccoli, zucchini, splashed tomatoes, a splashed pear, beans, oranges, apples, grapefruits, and ginger root to dry on small rocks in the sun (now I know why that food bag was so heavy), that by this time, resembled a circle of flames, quickly falling behind the mountains.
We made way too much food, but fortunately Max, a mountain guide from Mexico we had become friends with today, was hungry too and helped us finish.
Starry night 
As soon as darkness set in and everybody made its way into their sleeping bag, I walked uphill and gazed at the stars and the Milkyway high above me. Headlights lit up the numerous tents beneath me and shone their tiny lights into the dark. The mule drivers had made a fire to grill their meat and stay warm.
It was a truly peaceful moment in which I was finally able to let go of my feelings of guilt about me longing for adventure and being away from my family for so long, and I felt completely in tune with myself and the place where I was.