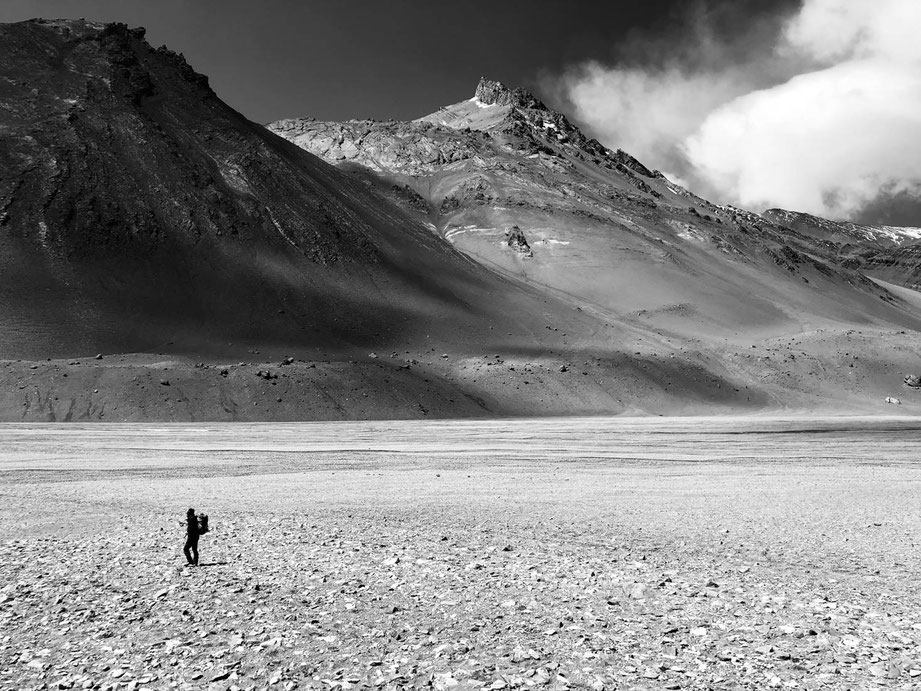 31 December 2018 - Hike to base camp (4200m)
The fun part
The last day of 2018 started with two river crossings. The mule drivers asked us if they could help us getting across the rivers by a mule, but I kindly turned down their offer. Since I had started winterswimming in the Vierwaldstättersee (Lake of the Four Forest Cantons) close to my home in Switzerland, I could only look forward to the intense sensation of submerging my feet in ice cold water.
We crossed the plain through which the Vacas river flowed with its wide arms, and headed to the narrow Relinchos valley that stretched out in front of us. My hands were red and painful from sunburn, and I needed to walk with gloves to protect them. At the river bedding we stopped and I took out the over 35 year old surfshoes my mother once gave me, which now served as a perfect protection for my feet while I crossed the rivers. Eduardo let me go first, shouting instructions on where I should cross the fast running water and how I should position my walking poles. It was so refreshing!
Rolling down the mountain
Full of energy from the water we started our climb through the valley. The steep hills were heavily eroded and at some narrow parts I was afraid that with each step the loose rocks would give way. As we were making up our way through the mighty valley we saw a train of mules passing us. I was amazed to see at what speed they ran up the sandy, steep mountain trails. Suddenly, one mule slipped and I saw him rolling down the mountain. He fell about 50 meters and I was afraid that he would end up in the river far below us and die. Somehow he managed to stop his fall, but he was totally bewildered and afraid, and his load hung beside his legs. It took a great effort from the mule drivers to get the mule back on the trail without provoking any further danger for the animal. We took a shortcut not to disturb the other mules who were waiting to carry on. Only at the next river crossing did we see them coming, running down the mountain, tiredless, knowing exactly where to go.
Deserted valley
Now we got a full view of Aconcagua and the Polish Glacier. What a mighty mountain, I thought. So pristine, so beautiful. I was glad with the choice of this route. It was deserted, we hardly saw anybody during the day. It was green, diverse, although hard to walk due to its rocky trail, and it took one day longer to reach basecamp as opposed to the more popular Horcones route.
As we gained altitude, the vegetation around us changed. I was amazed to see bunches of flowers growing at 4000 meters. On a steep hill far away we spotted a guanaco. Small yellow birds were singing as they were flying around us. We passed a cemetery of gigantic rust-colored boulders which had found their last place to rest long time ago. Where was base camp? I asked myself more than a hundred times, while I tried to find a rhythm in hiking uphill, downhill, uphill again...
Sat phone
I wanted to call home with my satellite phone (my kids would just still be up before they would hear their bedtime stories), that I had rented especially for this purpose, and to receive weather reports from my friend Peter who was based in The Netherlands and supported me with weather forecasts throughout the entire climb.
But making a phone call here was pointless. There was so much wind that even having a conversation with Eduardo was impossible. Although I quickly picked up Spanish and could participate in basic conversations with Eduardo, my Spanish was not at a level that we could engage in deeper conversations. If there was one disadvantage of travelling alone, this was certainly one.    
Base camp village
Until we nearly finally arrived, base camp had been hidden behind thick, old layers of earth, protected and invisible from the valley below. As we entered the camp, I felt like I had landed on the moon. The landscape was rugged, uninhabitable, rocky, dry and extremely windy. There were tents in all colors, shapes and sizes; tunnels, big and small domes… there were toilets, a large sink, showers, cook tents, dinner tents, equipment tents, a rangers station and a medical hut. It was a true village at 4200 meter. Eduardo and I looked for a place to call our home for the next few days and pitched our tents in between little walls of rocks that served as protection against the ferocious wind gusts. We had now become part of the base camp village.
Good bye 2018
The Mexican group partied till deep in the night, with a fire, lots of alcohol and loud music. Base camp at Aconcagua was a special place to celebrate New Year's Eve, although I did not party all night long and still did not drink any alcohol as I did not want to ruin my acclimatization.
Instead, I spent the evening with Eduardo and two Americans: Demetrius and Vicky. As it turned out that they had their eyes on the same route as we had (at least until camp 2), we spent the evening discussing the route and the climb in detail. 
Music in the valley
Before midnight I crawled into my sleeping bag and tried to get some sleep, which only set in after hours of being awake and having non-voluntarily listened to the partybeats that echoed through the otherwise so peaceful valley.