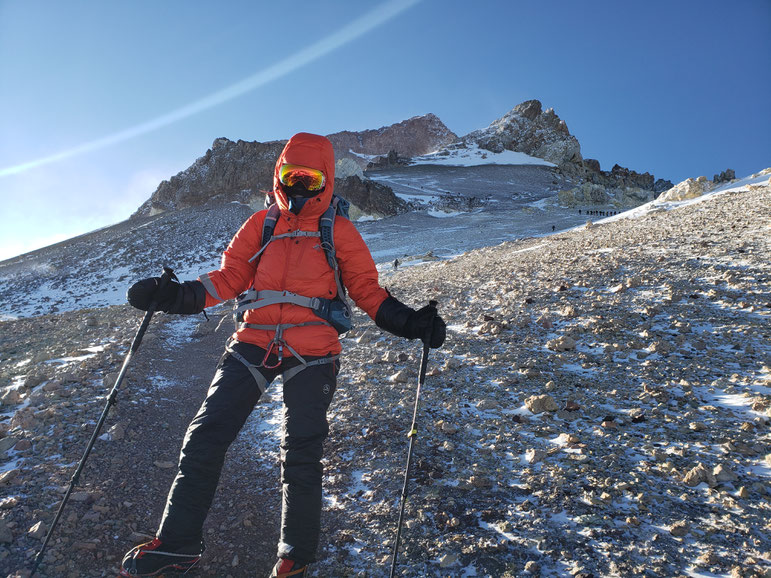 A few hundred meters above camp 3, the track zigzags up
11 January 2019 – Summit day
Not a good start
At 3 am my alarm went off. I had not slept much, it was a cold night. I did not hear any noise coming from the other tents. 'Eduardo?' No answer. I could hardly wake him up and when I told him we were the first to go, he murmured that we waited another half an hour so we would not be the first having to prepare the snowy trail.
I did not close an eye anymore, but when I finally started to prepare myself, it took very long to get ready. It was so hard to get out of my sleeping bag and become active. We boiled water for tea and I tried to eat something. I felt like I had to vomit a few times and was cold as I had not yet felt before on Aconcagua.
My whole body was screaming that it did not want to move. That I needed to rest after the past three days of climbing and moving up in one go from 4200m to 6000m. It wasn't a good start of the summit day.
The hours passed
I don't know how the hours could just have passed, but it was around seven in the morning when we finally started our summit push. The sunrise set the White Rocks in a golden glow, it was of almost surreal beauty. From time to time, the wind calmed down and had almost become acceptable. It was extremely cold though. However, it seemed to be a nearly perfect day for the summit.
Too cold to go on
The trail zigzagged up in the shadows above camp 3. My toes and fingers were cold and they hurt. I had looked for the foot- and handwarmers in my backpack, but could not find them anymore. The other pack I had used yesterday, which I now regretted. Another pack I had given to Eduardo but he could not find that one either. Damned.
I told myself to push through, to be strong, and that I would soon warm up. But instead of getting warmer, I got colder. How long could I still continue without being naive? I had all my clothes on, and could not add an extra layer. All I could think of was how cold I was and that I did not see the point of going further. How high was the price I wanted to pay for the summit? Not even one toe or finger. I felt split. Thought about the last half year of preparation and training. All the time and energy that had gone into this. About the people that had helped me so that I could climb this mountain. About the money I had spent on equipment (hearing my husband joking: now you have to make it to the summit!).
About the physical and mental effort I had given it in the last weeks to make it up till where I was now… but it was enough. I could not go any higher.
A tough decision
I said to Eduardo that I had to turn around. He did not try to motivate me to go on, but calmly said: 'Ok. This is your decision.' I cried behind my snow goggles and took in the majestic views before we headed down. As soon as we got back in camp 3, I quickly disappeared into my sleeping bag to warm up. I was shivering and it took me one and half hour to warm up my toes. I did not think about spending another day in camp 3 and try again the next day, which would have been impossible anyway, because we did not have another extra day. Instead, on that day, we descended all the way to base camp Plaza Argentina.
Rocky friends
For the eighth time, I hiked the trail between camp 1 and base camp. And every time, the landscape had changed due to landslides or snowbridges that had collapsed.
We took a break at our usual spot right before entering the rockfall area and sat down on our favourite rocks that we called Eduardo's rock and Renate's rock.
Hot shower and a pizza
Back in base camp a hot shower and a pizza were awaiting us. Griselda and Mono offered us to sleep in the large dining dome, so I did not have to pitch my tent that day. I did feel disappointment about not having made it to the summit. With a bit more mental strength and warmer clothes I might have made it. At the same time I felt fulfilled and immensely grateful for the incredible adventure, for the great people I had met underway, and for being back healthy and alive.