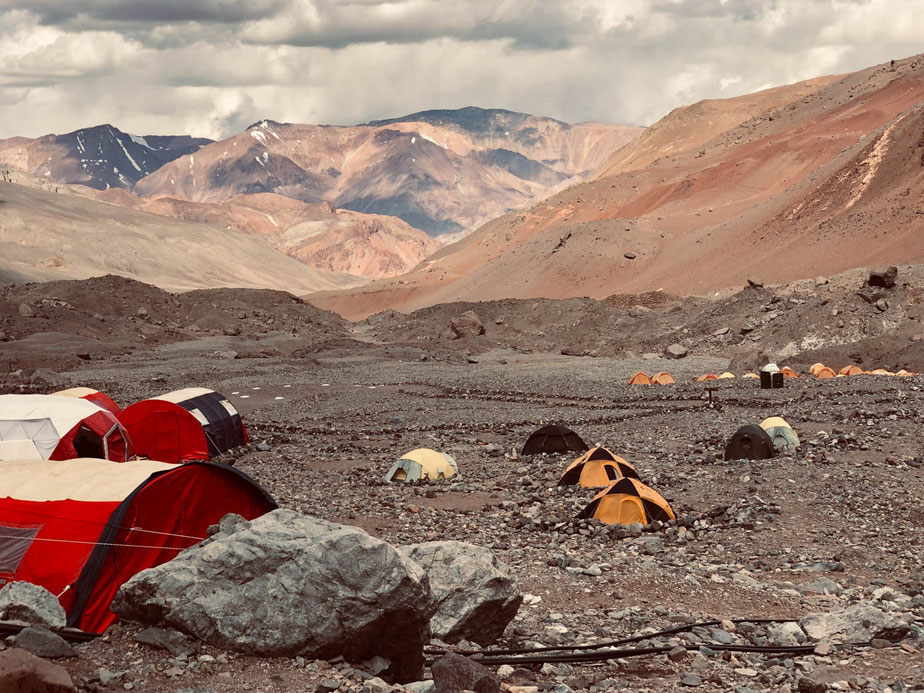 1 January 2019 - Restday at base camp
Friends
When I woke up, I had a headache. I was not sure what had caused it, the altitude or my sleepless night? It was the first day of the new year, which excited me in a way, as a whole new year lied ahead of me, waiting to unfold. Yesterday, we had met Griselda, our base camp manager who worked for Mallku Expediciones. The small cooking tent with a remarkably equipped kitchen (even an oven and running water), a table, chairs, a lightbulb and a Christmas tree was her home during three months in summer.
Griselda had lived on Aconcagua for ten years now and she was attached to the base camp community where she had found friends for life. Together with Mono, our porter, they made our life on Aconcagua way more comfortable and I could not imagine climbing the mountain without their help. They were great to hang out with and they constantly shared their yerba mate (herbal tea) with me, which we sipped from the same straw. In South America, sharing mate symbolizes friendship and hospitality. 
Medical check
At 10:30 Eduardo and I were expected at the medical station for a check up by the base camp doctor. There was no option of skipping this consult, as the rangers would not allow anyone to go higher without medical approval. I had to fill out a questionnaire with questions about our intended route and altitude experience.
The check itself included nothing more than a check of lungfunction, blood pressure, and oxygen saturation level. It was a bit nonsense for Eduardo, who found himself to be at the same altitude as where he lives in La Paz and physically had not even needed to adapt himself to the high altitude.
No radio
We were told that we could only start the climb if we would take a radio with us so we could radio base camp in case of an emergency. My sat phone was useless in case we needed help, as nobody in base camp had a sat pone and all communication was to be done by radio.
I had no appetite in renting a radio nor in taking another electrical device with me on the mountain so I ignored the request, hoping that we would not end up in an emergency.
Leave no trace
We also got the infamous orange plastic bag, yes, a poop bag that had to be returned full, or at least with some substance in it. Leave no trace was something to be taken literally on Aconcagua, which I thought was a positive thing, out of respect for the mountain and other climbers. This was Aconcagua, not Everest (sadly enough Everest has become a dump)! But I had not thought about taking some small bags for this purpose from home and I had no clue how to be successful at filling a poop bag and dragging it with me on the mountain for the next 10 days. Fortunately Demetrius and Vicky did not need all their plastic food baggies and they shared some with me.
Sculptures of ice
After lunch, I tried to get some rest but soon I was bored and I decided to make an acclimatization hike. Eduardo had already left two hours ago and we had agreed that we would see each other on the way back down. I still had a headache but it was not as profound as this morning.
I left at 15:00, following the narrow path that wound up the moraine ridge above base camp. I hiked through a steep area of loose rocks and fields of penitentes – beautiful sculptures of snow and ice, shaped by the wind. As I got higher, my headache disappeared, which I found surprising, since it normally works in the opposite way.
Basecamp lied far beneath me and all I could hear was the sound of the roaring glacier river next to me, my footsteps on the loose scree, and my rapid breathing. On the left side, walls of rocks towered hundreds of meters in the sky and I could just hope that any loose rocks would stay where they were. 
The Minefield
Once I had passed the rockfall zone, I entered a flatter area with small icelakes and huge fields of penitentes. I passed a stone man that marked the way, here I took a short brake. The sky was clear and the Polish Glacier glittered in the sunlight. I was alone but did not feel lonely. Instead I felt strong and climbed higher and higher.
I passed more fields of penitentes, the largest is called the Minefield as it resembles a warzone. I was fascinated by these beautiful ice sculptures. They were all different, and there were thousands of them. After some time two climbers caught up with me, Natascha and her fiancee Vichel, a young couple from Canada that lived in Nairobi. Together we continued till the bottom of the steep climb over scree and snow to camp 1. My altitude meter showed 4600m and I tried to see Eduardo coming down, but there was no sign of him. It was not my intention to climb all the way up to camp 1, so I said good bye to Natascha and Vichel, hoping that I would see them again.
Two dots coming down
Far away, high on the snow field, I saw two black dots coming down. I thought one of them must be Eduardo. By this time, 17:00, I expected him to be on his way back. I sat on a boulder and waited for him, quickly getting cold in the wind. The two dots descended rapidly and as they came closer, I saw Eduardo was not among them, but Demetrius and Vicky. I could have expected them to come down by this time, and I felt relieved to see them. I decided not to wait any longer for Eduardo and headed back to base camp with the two young men at an incredible pace. Back down, I started preparing dinner – and cooked our last fresh vegetables. It was past seven in the evening, as Eduardo came down as one of the last people to descend the mountain that day. The sunset at this altitude was like magic, setting the sky and the mountains on the other side of the valley on fire.