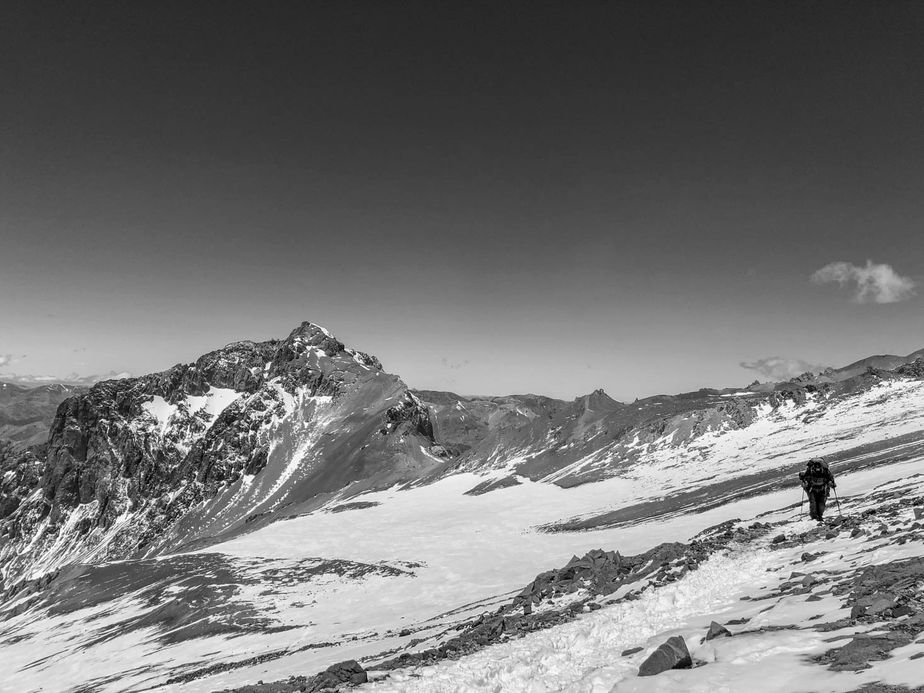 A climber above camp 2 with Ameghino in the back
10 January 2019 – Camp 2 Guanacos to camp 3 Colera (6000m)
Everything frozen
Woke up at 7:30. I slept a great part of the night. Eduardo's sleeping bag was not warm enough for him and he used a rescue foil in an attempt to get warm. Everything in the tent was frozen – from our balaclavas and sunglasses to some zippers of the tent that did not open anymore because they got frozen. Our sleeping bags were covered with a thin layer of snow.
Clear sky
The weather had cleared up and when I looked outside, I saw a blue sky and around 40 people breaking up their tents. The first groups were already making up their way to camp 3. I was relieved and felt excited to go. We started packing our stuff and soon we were on our way as well. The first section was a steep climb above camp that led to a flatter area. We went slow, to save energy for the rest of the day and also because I just could not go fast. I tried to get into a pace that I could continue keeping up with.
Feeling the altitude
Ahead of me I saw numerous groups making their way in zigzags up to the ridge, where was camp 3 near the White Rocks. Now the sky was clear, I could see how high we were. The views were stunning. We hiked for most of the time through fresh snow. It was cold, and the wind was still strong. But the good weather made for an enjoyable climb. I could feel the effects of the altitude, but seemed to acclimatize quickly as this was my second time climbing up to 6000m in a few days.
Damn backpack
The climb to camp Colera took four hours. The last couple of hundred meters towards the ridge my upper back hurt so much that I could hardly carry my backpack anymore. I had fights with my backpack anyway as the hipband was so tightly shaped that it did not open each time I tried to lift this monster over my five layers of clothes.
I clumsily tried to get the band around my hips, but I felt helpless like a child and had to ask Eduardo for help. He always had to laugh when he saw me struggling and made fun of me and my impossible backpack. A female climber with the same backpack had the same issue, but lucky her, a porter of her group came down to take over her backpack and I wished someone would do the same for me.
Just below the ridge I saw Max who had come up with her. He saw me going slow and offered to exchange backpacks (his was not heavy at all), which I gratefully did – my wish was heard!
Melting snow for hours
Shortly after we arrived in camp 3 - Colera, which is Spanish for 'anger'. The name says it all: an extremely windy camp. From here, the summit seemed so close, but was still 10 hours away. As soon as we pitched our tent, Eduardo filled a bag of snow that I started to melt in the tent while I warmed up in my sleeping bag. It took forever until we had one liter of water, which by far was not enough. At this altitude we needed at least four liters, per person (!), which would probably take us until way after midnight. We melted snow for hours on end, and I was so tired that between each chunk of snow I put on the stove, I laid down and fell asleep. I was too tired to cook, but forced myself to eat and drink. Eduardo was used to not eating and drinking much on expeditions. For him, the most important sources of nutrition were salt and sugar and I was amazed to see how quickly he was able to get down half a kilo bag of each.  
Preparing for summit day
I packed the minimum I needed for tomorrow, and checked the weather on my satellite phone. Peter had sent me weather forecasts each day to the Iridium sat phone I had rent, which was very helpful. For the summit bid, he had asked Austrian meteorologist and mountaineer Karl Gabl (a.o. known for his weather prognosis for expedition climbers around the world) to have a detailed look at the weather changes at Aconcagua, so we almost knew by the hour when the winds were down and when a new snow storm would come in.
The weather was supposed to be good until halfway the afternoon, with winds around 30 km/hr and chill -35°C. Not a bad day for the summit at all, just a bit chilly...