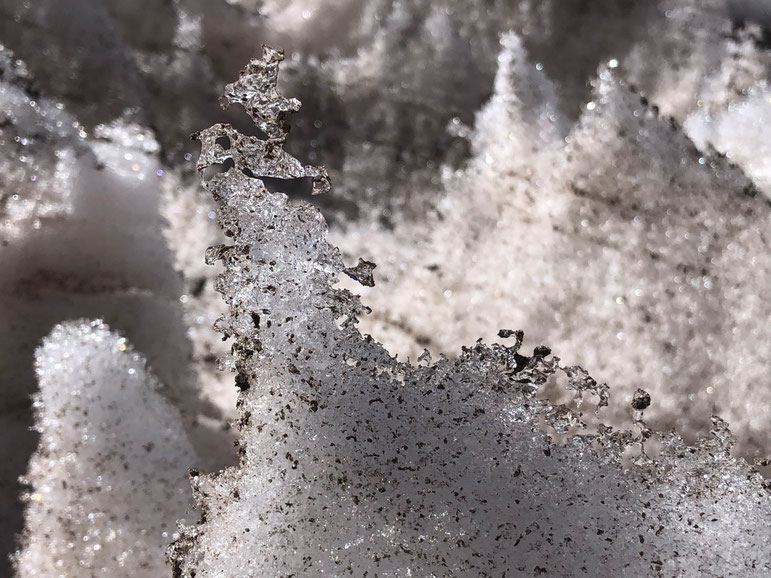 8 January 2019 – Change of plan: back to camp 1
Second attempt
Finally I had a good night and being back in base camp allowed me to recover and feel good again. We still had five days left, why would we go back to the trailhead? I had new energy and refused to give up now. The way was up, not down! I wanted to spend more time on the mountain, try to climb it a second time, via Guanacos camp 2 (the old Guanacos route had been closed) that rejoined the normal route from the Horcones Valley at camp 3 (Colera).
Until we had spoken to the park rangers in base camp, I did not know that this route existed, but I was curious. I discussed my plan with Eduardo, who was totally in for it, and three hours later we were on our way back to camp 1.
One piece of underwear
This time, we went with half the equipment, as I did not want to spend more money on porter services. This meant one tent, one stove, no climbing gear (just crampons and a rope), no heavy camera, one piece of underwear for the next four days (there was no shower anyway), a toothbrush but no toothpaste; only the necessary things. The only problem was that our food was still in camp 2. Meals, energy bars, chocolates, tea… all the good things from home.
No food
So we had no food. Mono was so kind to offer us the left overs from other expeditions, and there was a lot to choose from. I set aside my vegetarian lifestyle and packed freeze dried spaghetti bolognese, carbonara, chicken sweet and sour, and energy bars full of sugar I would never eat back home…but I didn't care.
When there is no option left and life is brought back to the essence, principles and convictions don't matter anymore. I was only grateful to Demetrius and Vicky to have left behind so much food. And to Mono, for opening another box of chocolate dulce de leche cookies.  
Sleeping alone in camp 1
Eduardo accompanied me up to camp 1 where I pitched my tent close to the tent of two Norwegian girls. Eduardo went back to base camp to sleep there. He would climb up the next morning and wanted to be in camp 1 by 9:00. I spent the night alone, but with the girls next to me I did not feel alone at all even though the wind continued testing my mental strength all the time.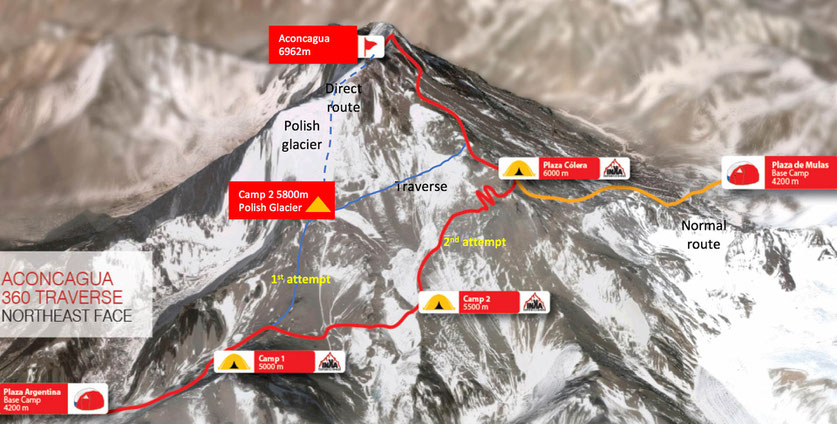 Image of the routes we took on Aconcagua. The blue route is the first route that follows the Traverse to join the normal route above Plaza Colera, camp 3. The red route is the second route.