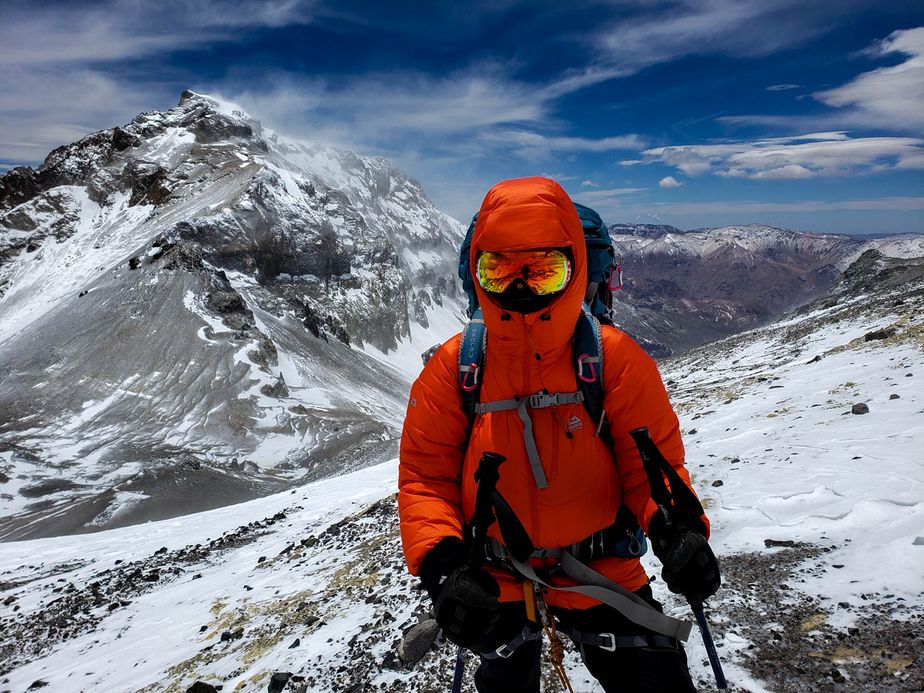 Renate below camp 2 with Ameghino in the background
7 January 2019 - Back to base camp
The world lies at my feet
We decided to go back. Eduardo scouted the route down and cached our technical climbing gear and food at the bottom of the steep, icy section while I broke up camp (these things somehow did not fit in our backpacks). As soon as we got roped up we started the descent.
There was a lot of fresh snow and the steep slope had become tricky due to avalanche risk. After the first icy part I sat down on a boulder to rest and Eduardo offered to take my backpack to the big boulder some hundred meters below camp 2.
While he went down I overlooked the Andes. From so high up the views were stunning. I don't have words to describe my feelings when I sat there. The world was at my feet and I found myself somewhere between heaven and earth.
Broken shoes
I was surprised how quickly I got cold, even though I had all my five layers on. I tried to get a feeling for the time Eduardo was away. Was it 15 minutes? Or 30? What if he got into an avalanche (which I could not see from where I was as the slope was so steep)? Anxious thoughts passed my mind, but I did not move, afraid of being blown off the mountain. I thought about my kids, they were probably playing with their trains and cars at this time, and certainly had no clue what the heck their mommy was doing on that mountain.
When Eduardo got back, I was really cold and happy to move again. Carefully we descended the slope. Shortly before our expedition, Eduardo had bought new shoes in La Paz but the sole got off the shoe and he had to tie them together with a prusik rope and tape. He had another pair, but those were not as warm. 
Is this the end?
A few hours later we were back in base camp. I felt disillusioned, as Eduardo had climbed to the summit and I had not even made one attempt. I asked Griselda to arrange a mule for us so we could leave base camp and go back to the trailhead. I thought the adventure was over.