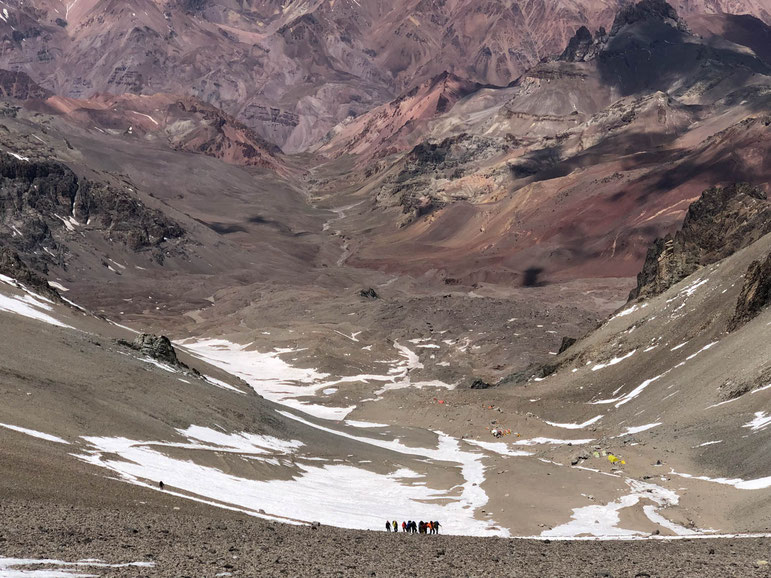 A group of climbers on their way to the col, camp 1 in the background
4 January 2019 – Hike to the col (5600m) and sleep in camp 1 (5000m)
Damn wind
After another sleepless night in camp 1, I felt weak. During the night, the wind almost blew my tent to pieces and I was anxious that it would blow off the mountain with me in it. I just could not get used to the constant noise of the wind going around my tent with brutal force.
Buying a storm proof dome shaped tent was probably the best investment I had made. After tea and breakfast of granola with milk (which I prepared in my tent) I felt much better.
Struggle up the col
We then started our acclimatization hike up to the col, which seemed an easy trail at first, but turned out to be a strenuous climb of two hours to reach the col at 5600m. We took a break just before the col to protect ourselves from the wind. The rock formations that surrounded us were almost other worldly and the views from the col were amazing. The wind on the col was immensely strong and we continued towards the left up the ridge on the south-east side in the direction of the Polish camp 2.
It smelled like sulfur that came from the yellow and white rocks on the trail, a proof of the vulcanic origin of Aconcagua. Halfway up the ridge we saw Mono coming down. He had just brought our food and climbing gear up to a large boulder underneath camp 2. He had no single gram of fat around his body, but hiked up and down the mountain with full loads on his back, as if it was a Sunday morning stroll. He shared some of his addictive chocolate layered dulce de leche cookies with us, which helped me enjoying this moment in full wind exposure.
Skiing down
I decided to go down with Mono, as I had enough for the day. Eduardo continued to explore the route up to camp 2. We descended the porter trail, which was something like a straight line down the mountain, which I could not even see completely because it was so steep.
The trail was partly covered with snow, partly with loose scree. We skied on our boots through the scree and snow and in no time we were back in camp 1.