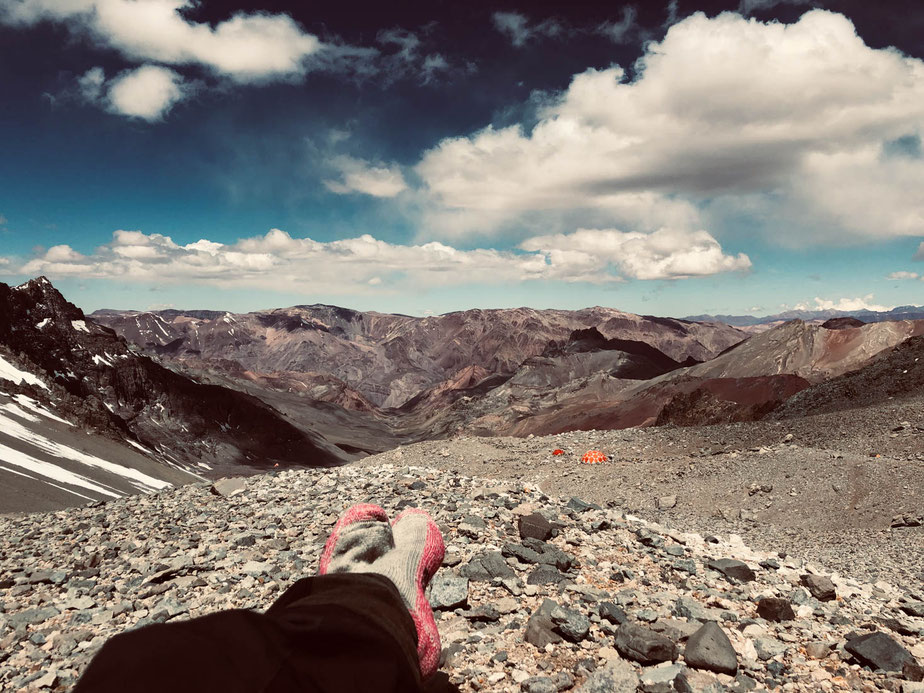 3 January 2019 – Moving up to camp 1
Sand is everywhere
Of all nights on the mountain, I probably slept during half of them. During the other half, I was awake, listening to the storm that wanted to rip my tent apart, thinking when the night would be over, hoping that I would not have to get out in the middle of the night. I was physically tired because the lack of sleep, but mentally I felt strong.
Aconcagua is a very dry mountain and sand had found its way into the tiniest places. After a week on the mountain, my phone did not charge anymore as grains of sand had blocked the USB port. There was sand in my tent and in my sleeping bag. My hands were black from dirt and I could not get them clean, the skin on my face however had become soft as the wind and sand made for a constant natural scrub.
The nine needs
As soon as we arrived in camp 1, we ran into Laurie. He had just brought his tent up here and his goal for today was to head down to base camp, to return to camp 1 tomorrow, and, as it turned out, to convey me one more message. Only weeks later I would find out that Laurie was the first Canadian to climb Mt Everest. On his numerous climbing expeditions to the Himalayas, Tibetans taught him about the nine needs humans have: the need for security, adventure, freedom, exchange, power, expression, acceptance, community and expansion (acronym 'safe-peace'). During our life, he told me, we tend to center three of these around our heart, as our most important ones. We naturally click easily with people who share the same three most important needs. I knew that for me, adventure and freedom were two of them.
Blessing
Laurie had spent many years learning about herbal medicine and had been with the shamans in the Amazon to learn about their traditions. When he looked at me he said: 'I can see that you can use more protection on the mountain. Do you want me to put an extra layer of protection around you (he had done this for Natascha and Vichel as well)?'
I could not fully grasp what he had seen and what this protection meant, however I was open to his blessing. He then rolled his tobacco and took some special water (I forgot the name) and performed a tobacco ritual on me. I had no idea what he was doing, but this was special to me. He did the same for Eduardo, as he did not want to exclude him although he said that Eduardo already had more protection.
After the ritual, Laurie started his descent to base camp. It was 15:30. His red bandana and black backpack were the last things I saw from him on the mountain.
We ate pasta with tomato sauce, fresh onion and garlic and got water from a small stream that was just not frozen yet.