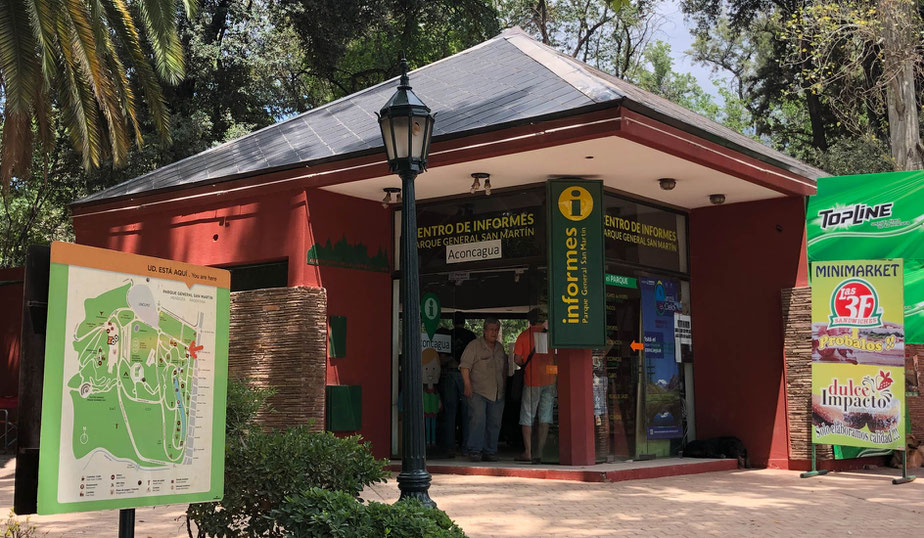 28 December 2018
The permit business
Arranging our climbing permits for Aconcagua was a chaotic undertaking, surrounded by bureaucracy. It took us all morning and until the last minute, I was not sure we would get them. First, we headed to the tourist office where we asked for help. We were told to go to the payment office (pago facil) one block down the street, where there were about twenty other people waiting in line to pay for their climbing permits. Eduardo and I had to fill out an application form after which I paid $2100 for two climbing permits ("without assistance", which, looking back, should have been permits "with assistance" that are much cheaper. By that time, I had not contracted an expedition service yet and thus no right to the discount. Tip: organize expedition service in advance as this will save you a lot of money). 
Rescue insurance
With the proof of payment in our hands, we grabbed a taxi and drove to the entrance of San Martin park, to the Centro de Informes, a few blocks down the road, that handed out Aconcagua permits. We provided the official with all the papers. By that time I was pretty sure we would soon hold the permits in our hands, until the man wanted to see our proof of mountain rescue insurance. In Bolivia such an insurance does not exist, and Eduardo had nothing to proof, which meant no climbing permit. Luckily enough, the woman next to us in line appeared to work for a trekking agency and kindly showed me the insurances she had taken out for her clients. I rushed to the first computer I saw and arranged Eduardo's insurance online. With the proof of insurance we went back to the official who was almost ready to hand over the permits, but then his supervisor told him it was time for a break and he did not let him finish with us first! So we waited another half an hour - with orange juices outside in the sun, so it was not too bad - before we finally held the climbing permits in our hands.
Last groceries
We bought gas (gaso blanco) and fuel in canisters for our stoves and on the way back to the B&B we noticed a small veggie market alongside the street, where I bought a bag full of fresh fruits and vegetables. Now we were ready to go!
Broken glass
After a four hour scenic bus ride in cama ejecutive that was so comfy that I slept most of the time, at dusk we arrived at Punta de Vacas. There we were, at the trailhead with all our luggage on the side of the road and no idea where to go from here and where we would sleep tonight. The adventure had started! We tried our luck in a deserted and dated warehouse opposite the road, and carried our bags there. The place was invested with bird droppings and broken glass, and with every gust of wind, the corrugated roof made so much noise I thought the whole construction would collapse on us. Wind blew through the open windows. I could not find any corner in the building where the wind would not find us. We left our luggage and decided to continue our search for a more inviting place to spend the night. A little further, we found a place next to a ruined house and overgrown train tracks, as depressive as the first place but a bit more protected from the wind. There was broken glass everywhere, garbage, rusted iron wires, broken energy saving lamps, a broken sink, everything was broken, except for the swing that still hung there as a proof of more joyful past days. Yet it seemed to be the best possible place to spend the night. I started to clean up the place and helped Eduardo getting our bags. We pitched our tents and I watched the sunset, coloring the horizon pink and orange.